FAQ Page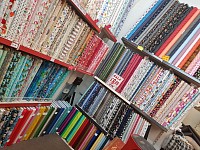 Frequently asked questions...
On this page we've tried to answer our frequently asked questions, please get in touch if we haven't covered something you'd like to know, many thanks.
Why does it say 'product out of stock' when i go to buy?
If it says product out of stock when you got buy in checkout, it may be that we don't have the amount you're wanting, so try entering a lower quantity.
Is this all of our products?
No, we have many more fabrics in store. if you're wanting any information on a product you can't see here email us and we'll be more than happy to try help.
Email us for more information on our products